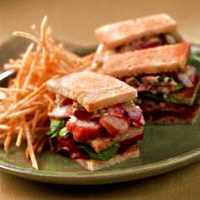 Double-Decker Lobster Club Sandwich
This classic double-decker sandwich can be stepped up a notch with delicious Maine lobster meat. For a successful club sandwich, you are going to need a hearty bread to carry all the delicious lobster meat, bacon, avocado, tomato and arugula you are going to use in the recipe.
Ingredients:
2 – 7 oz. cups of Cozy Harbor Lobster Meat*
1/8 cup celery, peeled, finely diced
1/8 cup green onions, finely chopped
1/2 Tablespoon parsley, chopped
1/4 cup mayonnaise
12 slices whole grain or country style bread
2 cups baby arugula
2 heirloom tomatoes, sliced
12 slices apple wood smoked bacon, cooked
1 avocado, sliced
* 7 oz. cup equals 2 1 lb. Maine lobsters
Directions:
Remove lobster meat from container, drain, pat dry and cut into 1/2″ pieces. Combine the lobster meat, celery, green onions, and parsley in a bowl. Add 1/8 cup of the lemon mayonnaise. Mix well and season with salt and pepper. Set aside.
Toast the bread. Generously spread one side of each piece of bread with lemon mayonnaise. Top one slice of bread with the arugula, 2 slices of tomatoes, and bacon. Place a toasted piece of bread on top. Add the avocado slices and Maine Lobster mixture on top of that. Place the other piece of toast on top, and secure with wooden toothpicks. Cut the sandwich diagonally into 2 pieces. Place on the plate with the sandwich open about 30 degrees so the guest can see the filling.
Recipe from the Maine Lobster Council