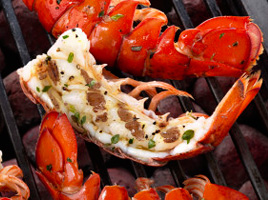 This easy to make lobster recipe is ready in minutes making it perfect for a backyard barbecue or quick and scrumptious meal during a busy summer week. Made with our delicious lobster tail meat and a two other simple ingredients – butter and herbs – this recipe makes for a special meal without the hassle.
Ingredients:
 1 Twin Tail Pack of Lobster Tails
Melted butter
Fresh Herbs, finely chopped
Directions:
Thaw in refrigerator overnight or 1-2 hours at room temperature. Brush with butter and herbs. Grill meat side down for 3 – 4 minutes, turn, baste, grill for another 3 -4 minutes. Enjoy.