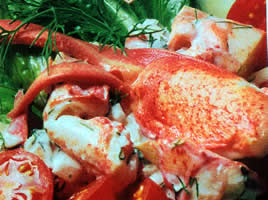 Spicy Lobster Salad with Tarragon
This lobster salad recipe is easy to make and can be served a variety of ways. It is made with lobster meat, carrots and cucumber but we added a little fresh tarragon and a little heat to really compliment the lobster flavor. We like to serve this spicy lobster salad with tarragon on split tomato or avocado and salad greens. Another alternative to our lobster and avocado recipe is to serve this lobster salad in a club sandwich, roll-up or on toasted buns.
Ingredients:
7 oz. cup of Cozy Harbor Lobster Meat*
1 tbsp. fresh squeezed lemon juice
1/4 cup mayonnaise
1/4 cup carrot – shredded
1/4 cup cucumber – seeded & diced
1/8 tsp. celery seed
1 tsp. fresh tarragon, finely chopped
Dash of Green Tabasco Sauce or sprinkle of cayenne pepper, if desired
Toasted almond slivers or pine nuts
* 7 oz. cup equals 2 1 lb. Maine lobsters
Directions:
Remove lobster meat from container, drain, pat dry and cut into 1/2″ pieces. Whisk tablespoon of lemon juice, teaspoon of tarragon, 1/8 teaspoon celery seed and Green Tabasco sauce into mayonnaise. Add cucumber and carrot, gently fold in lobster meat until fully coated. Chill well and serve.